Hub Deputy Director Dr Gardiner was named Australia's 2024 top Researcher in the field of Plant Pathology.
The Australian's 2024 Research magazine names the top researcher and top research institution in each field of research, based on the number of citations for papers published in the top 20 journals in each field over the past five years.
Our Deputy Director, Dr Donald Gardiner, has been listed as Australia's top researcher in the field of Plant Pathology.
His work has mainly focused on mechanisms of pathogenicity and virulence of Fusarium species of fungi that infect cereal crops. He has contributed to a greater understanding the molecular interplay between host and pathogen, the discovery of new toxins and plant hormone mimics produced by these pathogens, the development of an understanding of how toxin production is regulated in pathogens, and the development of gene drive technology that could one day be used to manage diseases in a sustainable way.
Congratulations Donald.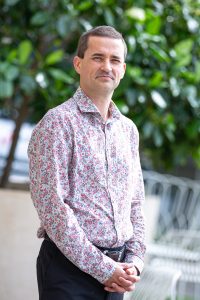 https://www.theaustralian.com.au/special-reports/research-magazine/we-delve-deep-into-the-data-to-reveal-excellence/news-story/858367617e0925e28620100cb208172b