More sustainable crops just a spray away
Scientists are investigating whether a clay-based 'vaccine' for plants could safeguard the nation's $5.5 billion-combined cotton and vegetable industries against pest infestation and crippling crop losses.
Funded by Hort Innovation and the Cotton Research Development Corporation, the project is being delivered by the University of Queensland (UQ) in partnership with Nufarm, and involves trials of the non-toxic, biodegradable product BioClay on farms in Queensland and other locations across the country.
Hort Innovation research and development general manager David Moore said the new work followed more than four years of research into developing the product, and the trials presented an exciting step toward the commercialisation of BioClay.
"The Australian vegetable industry is among Australia's largest horticultural industries with an estimated annual gross production value of $3.7 billion, and exports to Asia and the Middle East valued at over $270 million," he said.
"Globally, an estimated 40 per cent of food grown is lost to crop pests and pathogens.
"Pest and disease management is increasingly challenging for both the fruit and vegetable and cotton industries, who are facing climate change, pesticide resistance and chemical use limitations.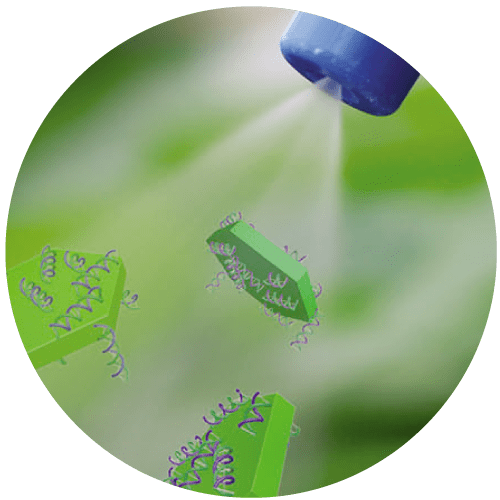 "The high-tech BioClay spray responds to these challenges by priming the plant's own defences, helping the plant to naturally attack specific crop pests and pathogens."
UQ research arm, the Queensland Alliance for Agriculture and Food Innovation, is leading the trials, and while the project is not due for completion until 2021, agricultural biotechnologist and research leader, Professor Neena Mitter, said early signs were promising.
"Through large-scale trials we know that BioClay works, and the work we have done to date provides a great foundation for pest and disease management across vegetable and cotton crops," she said.
"BioClay offers sustainable crop protection and residue free food produce – which consumers demand.
"There is no genetic modification of the plants, and the process does not involve chemicals that might affect untargeted insects.
"BioClay is the first step towards revolutionising how we manage pest control organically for increased sustainability and resilience of crops and industry at large. This is an exciting project that has the potential to ultimately reshape industry approaches to pesticides."
This project has been funded by Hort Innovation using the research and development levy, the Cotton Research and Development Corporation (CRDC) and contributions from the Australian Government. Hort Innovation is the grower-owned, not-for-profit research and development corporation for the Australian horticulture sector.